Is SEO dying or is it still one of the best ways to get organic traffic for your website? We believe that SEO has never been more popular and if you're an SEO beginner or you're looking to expand your knowledge, read through our SEO guide that could be beneficial for your business.
Where to start with SEO optimization?
Before we dive into our SEO guide, you should have your site architecture ready and know what type of content you're going to use for your website. Website architecture is the hierarchical structure of pages on your website. The search results will improve if your website architecture is logical and has clear and precise topics.
We also think that before you start with any SEO-related activity, you should do an in-depth data analysis and collect important data which could include: customer interviews, testimonials, website reviews, CRM data, sales calls, product team inputs, or software features. With the data you're able to collect, you can begin working your way towards making great and valuable content.
Why is valuable and helpful content important?
According to the latest Google update, websites that have a relatively high amount of unsatisfying or unhelpful content, where the content is written for search engines first will be reviewed. This means that websites that have content specifically written for ranking well in search engines might get negative traffic hits. 
Search engines are also increasingly focused on what's called E.A.T., which stands for Expertise, Authority, and Trustworthiness. Meaning that providing great content isn't the only thing you should care about, it's also about creating and nurturing your brand so you can create a product or a service that has authority.
Having these starting tips in mind, let's start going through our SEO guide.
Onsite SEO
URL structure
A well-crafted URL provides both users and search engines an indication of what the content of the page will be about. For example, if you have a webpage where you're offering Software Development services, a good URL for that website would be url.com/software-development-services
Content makes or breaks your website
SEO Content includes lots of different content types. Whether they are product pages, blogs, articles, guides, videos, or glossaries the end goal of every content piece is that it has a specific goal and purpose. We believe you should take 4 things into consideration when creating great SEO content: extensive data research about your product or service, keyword research & strategy, content structure, and copywriting. We added copywriting because we believe if you've done your research properly, the last and final task is to put that research into words that your users will engage with and have a great user experience. In the end, Onsite SEO is what users read on your website.
Metadata
Meta tags offer more details about your site to search engines and website visitors who are able to see your website in SERP. By optimizing meta tags, you are highlighting important content elements and by doing so, there is a higher chance of you receiving organic results using meta tags. Meta tags include title tags, meta descriptions, canonical tags, robot meta tags, alt texts, and header tags.


Keywords
When you have a well-optimized website for search engines, you're speaking the same language as your users when they're searching for specific terms or keywords. This is why a base of good keywords for SEO help connect searchers to your site.
How do you know which keywords to use?
Keyword research is the process of creating an extensive list of keywords you would like to rank for. Every content SEO strategy should include keyword research because you have to know what your audience is searching for if you want to generate traffic.
Keyword intent examples:
Informational – Users are trying to find an answer for a specific question or specific information about a certain topic, for example typing in "SEO guide" would be an informational keyword search.

Transactional – The user wants to complete an action (conversion), for example "Buy shoes online" would be a transactional keyword search

Navigational – The user wants to find a specific page or site, for example typing in "Youtube" in the search engine instead of typing in the URL would be a navigational keyword search

Commercial –  The user wants to investigate brands or services, for example "iPhone 14 review" would be a commercial keyword search.
Internal links
Internal linking is a crucial part of connecting your existing content on the website. How will you know which page is a good page to connect to your existing content?
Perform a Google search for (quoted by Derek Flint):
1️⃣ site:yourdomain(dot)com [insert your target keyword]
This will give you a list of pages that Google believes are most relevant to that term on your website already.
It also will tell you which pages use that keyword somewhere inside that content.
These pages should link to your newest piece of content.
Perform a Google search for:
2️⃣ site:yourdomain(dot)com [insert short phrase that describes each section of the new blog]
This will tell you if you have any content on your site that relates to the individual sections of your new post.
If you do, link out to them from their related section.
Offsite SEO
Local Listings
Started a business recently but you're not showing up in your local search results? Local SEO is a great source of highly targeted traffic. One of the ways you can start developing your local SEO is to make a Google Business profile using Google My Business. By creating a profile, you will increase your business's visibility and increase the chances of it appearing in Google Search, Google Maps, and other Google services.
Backlinks
Backlinks are links from one website to a page on another website. Earning valuable backlinks is a crucial component of Offsite SEO. The process of obtaining these links is also known as link building. Backlinks that could be classified as quality backlinks should always be relevant to your content and ideally they should have strong authority.

Because of that we can also mention that some backlinks are stronger than others, meaning that a backlink from a website that has more authority will greatly impact your website as well.
If you're interested about backlinks in depth, here's a Backlink Guide by Brian Dean.
Guest posting
Publishing your articles in collaboration with other websites could lead to more web traffic and valuable backlinks. It's easy as that. We mentioned backlinks as an important part of proving your website authority and guest posting could give you that authority boost you're looking for.
Social promotions
Social media SEO refers to how social media activities can boost your website's organic traffic through search engines. The more you are mentioned in social media activities or you're posting a lot of social media content, the better it is for your Offsite SEO.
Technical SEO
Mobile Friendliness
Since 2018, Google has been using the mobile versions of all new pages for ranking and indexing purposes when it crawls your site. This is also called mobile-first indexing. Having that in mind if your website is not mobile-friendly, your search ranking might take a negative hit.
Site Maps

An XML sitemap is a file that lists the essential pages of a website, making sure search engines can find and crawl them all. It's an important file that gives an hierarchy to your content and tells search engines which pages on your site are the most important ones. The XML sitemaps are usually implemented with a little help of developers and if you're interested in more details, you can check an XML sitemap guide in more detail.

robots.txt

A robots.txt file tells search engine crawlers which URLs the crawler can access on your site. This is used mainly to avoid overloading your site with requests; it is not a mechanism for keeping a web page out of Google.

In order to be found, a robots.txt file must be placed in a website's top-level directory.


Page Speed

There are three most common ways to measure your page speed.
Fully Loaded Page: The time spent loading all resources on your web page. One of basic metrics to determine a page load speed.
Time to First Byte: This measures how long it takes for a page to start the loading process.
First Meaningful Paint/First Contextual Paint: Time it takes a page to load enough of its resources for a user to be able to read the content on that page.
What tool can you use for measuring speed? We use PageSpeed Insights, but there are also tool such as: GTmetrix and many more.
How can you improve your Page Speed?
Use fast and reliable hosting
Get a fast DNS provider
Ensure your image files are compressed (without being too pixelated)
Ensure your web pages are compressed
Don't use scripts or plugins that are not essential
Use if possible one CSS stylesheet instead of multiple CSS stylesheets or inline CSS
Remove uncessary code – rid of any unnecessary spaces, line breaks or indentation in your HTML, CSS and Javascript
Broken Links
Avoid linking out to broken content, and also avoid having pages on your site that are broken. Make sure you're analyzing your website frequently to find if there are any broken links on your website since broken links can do more harm than good.

Images optimization

When adding images to your website, whether it's a web page or a blog post, it's important to make sure that your images are optimised and compressed properly. Large images can cause your page to load slower which can affect your page performance.

Structured Data
Google uses structured data that it finds on the web to understand the content of the page, as well as to gather information about the web and the world in general.
In order to be eligible for rich results, mark up your site's pages using one of three supported formats:
JSON-LD (recommended)
Microdata
RDFa
Useful SEO tools we recommend
SEMrush
SEMrush is software that helps companies run digital marketing strategies, like SEO campaigns. It's an all-in-one digital marketing program helping you run SEO, pay-per-click (PPC), social media, and content marketing campaigns. We believe SEMrush is a great all-around SEO tool.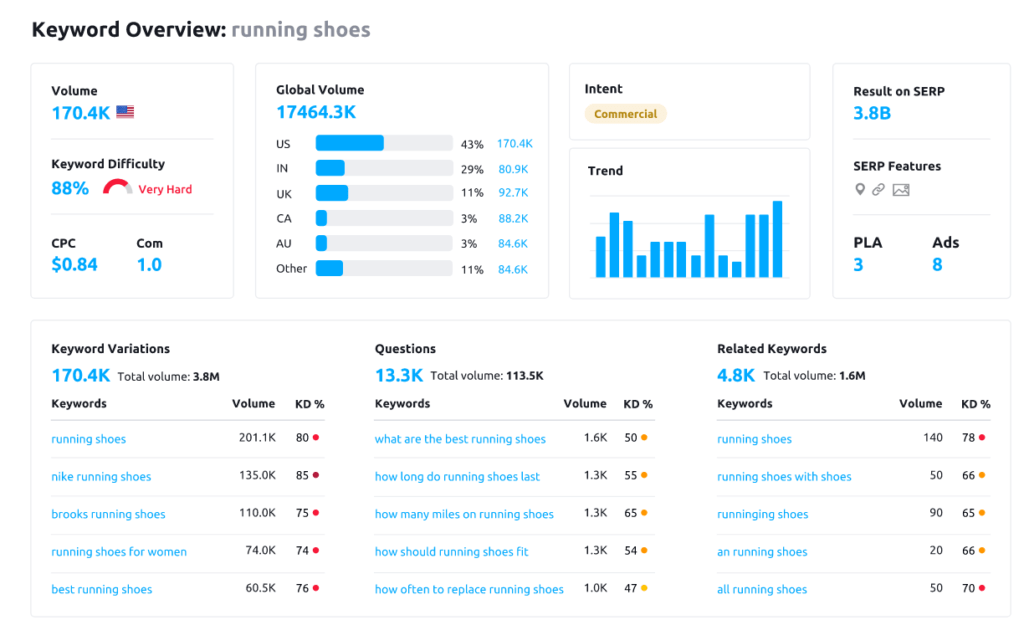 Seranking
SE ranking is one of the leading SEO softwares for business owners, agencies, and SEO specialists. It's primary function is to track your rankings, monitor competitors, spot technical errors, and more.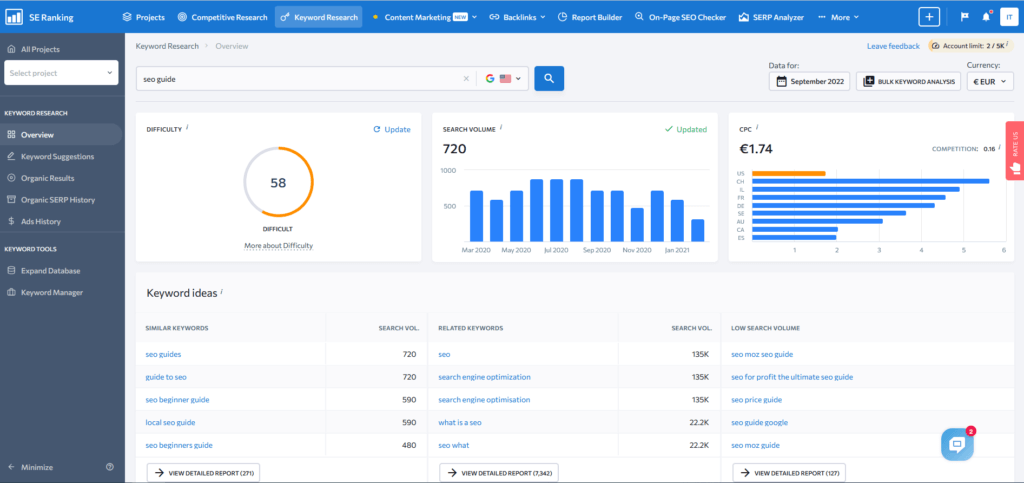 Screaming Frog
Screaming Frog SEO Spider is a small desktop program you can install on your PC that spiders Web site links, images, CSS, scripts, and apps. It also fetches key onsite page elements for SEO, presents them in tabs by type, and allows you to filter for common SEO issues, or slice and dice the data how you see fit by exporting and importing it into Excel.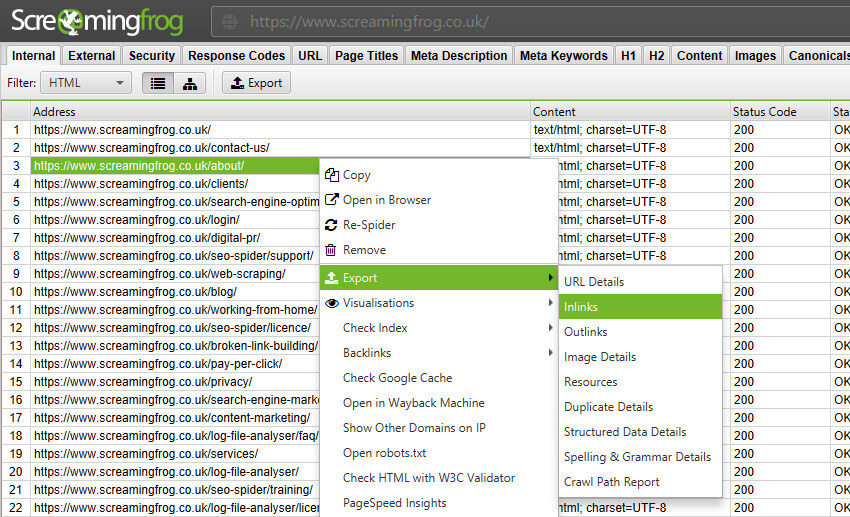 Google Search Console
When you're adding new pages on your website or if your website is completely new, it is important to use Google Search Console and use URL inspection so you can crawl your pages, the sooner your crawl your pages, Google will start to rank them in the search results.
Yoast SEO
Yoast SEO is a website plugin that can recognize related keyphrases, synonyms of keyphrases, and different word forms of your keyphrases*. This lets you write more naturally and makes it easier to improve your content for audiences and the search engines.
Web.dev measure tool
For technical improvements, web.dev measure tool is a great tool you can use to improve your technical SEO. It will analyze your website performance, accessibility and give you advice where you can improve your website.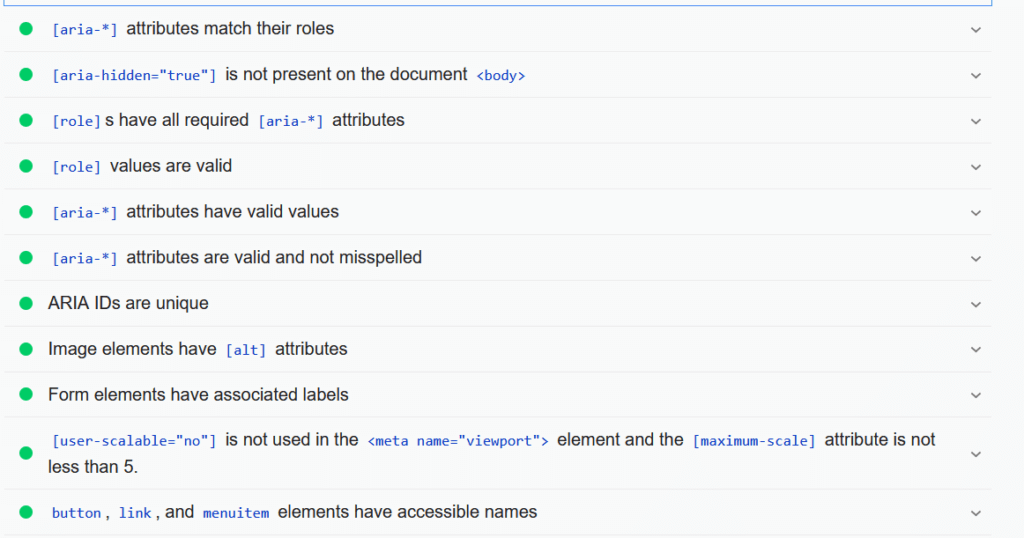 SEO content ideas and our results
Whether you're working at a marketing agency or a development company, there is always room to include your co-workers in giving you ideas for writing new and helpful content. Here at Samurai Digital we included our developers in solving complex Flutter Development problems that were later written into articles. These articles are currently receiving thousands of views per month and are visited by users from countries worldwide and the amount of organic growth compared to last year has seen an increase of 239%.
What is the reason they're receiving traffic and are currently ranking for hundreds of keywords? They solve a unique problem that a lot of people are searching for. It's simple as that. Below you can see the organic growth of keywords because of the blogs we published last year.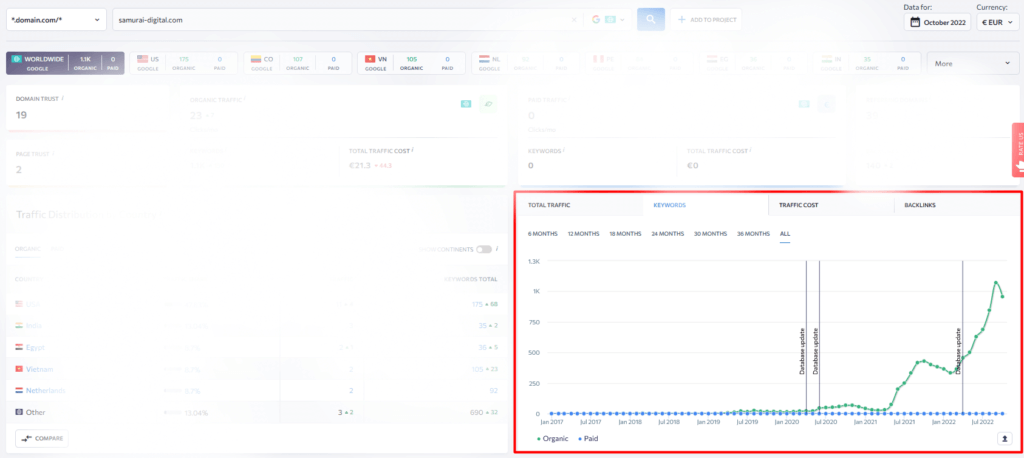 SEO Guide Conclusion – Do a Web Project with Samurai Digital
Liked the SEO guide and thinking of implementing these tactics on your next project? Instead of you doing the heavy lifting, schedule a consultation with our Samurai Team so we can do it for you. Contact us today so we can start a successful SEO web project together.